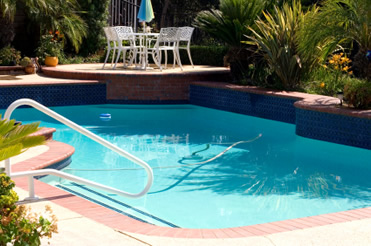 Caulking Unlimited is a leading caulking contractor serving residential and commercial customers in the Maryland, DC and Northern Virginia areas. We offer exterior caulking services including inground pools (expansion joints), windows, doors, and other exterior structures.
Improperly Sealed Expansion Joints Can Cause Severe Damage
On your pool, the expansion joint between the pool and the deck is an important area to periodically inspect. Any gap between pool coping and decking will allow water to enter behind the two independent structures. During cold weather this water will freeze and expand causing the coping and/or decking to lift or crack.
Caulking inground swimming pools
All water, whether it is from your pool, rain or wherever, will seek the lowest point. It will follow the surface, and if there is a path through the surface it will create voids that lead to sinking decks, beam damage, cracked tile or coping and shifting or lifted concrete. You have to maintain a superior sealed expansion joint so the water rolls over the top of the deck (and not under it).
Whether you've had the pool for years or your pool is newly built - this part of the pool building process can be left unfinished or improperly sealed. Even if your builder did the job properly, caulked joints must be inspected and replaced every 2-4 years. In some cases you can go for years without noticing a problem but eventually the damage to coping stones, tiles, beam or decking will become apparent.
Is this a do-it-yourself project?
Some homeowners turn to DIY caulking but soon realize why the pool builder may have neglected this step - it's not the easiest part of the construction process. On your knees, keeping the sides of the joint clean and dry, applying the correct caulk, tooling and making it look professional will sustain the beauty of your pool. This isn't a small area people won't notice, this is the focal point of your backyard so it's important to not spill, or drip the sealant over your tile or concrete, as it is almost impossible to remove.
For professional caulking around the pool we use a non-sag caulk versus self-leveling because the Non Sag caulk is gun grade (Not Trowled) and does not run like self leveling. We also use a urethane sealant to provide better adhesion and we hand-tool the job for a better appearance.
What we do:
Full Surface preparation - cleaning debris, removal of old caulk and ensuring a dry, solid edge
Install new Backer rod foam in the joints (where needed)
Caulk is applied by gun and hand tooled.
We use a professional grade urethane sealant
Clean-up including removal and disposal of all old caulk
Our customers include homeowners, pool construction and maintenance companies, and pool restoration companies.
What our customers say:
Johnson Pools has been working with Phil Becker and Caulking Unlimited for many years now. The quality of the caulking is second to none. For us, this is the icing on the cake for the completion of our swimming pool projects. We appreciate the professionalism that Phil brings to his interactions with us and our customers. We highly recommend his services.
Doug, Johnson Pools
At Elite Pools, we use Philip Becker to caulk all of our pools. His company is one of the reasons Elite Pools maintains it's superior reputation. Phillip Becker's quality, communication, pricing and attention to detail are second to none. I recommend if you ever need caulk that you should call Phillip and he will take care of you with great care.
Mike Shaffery